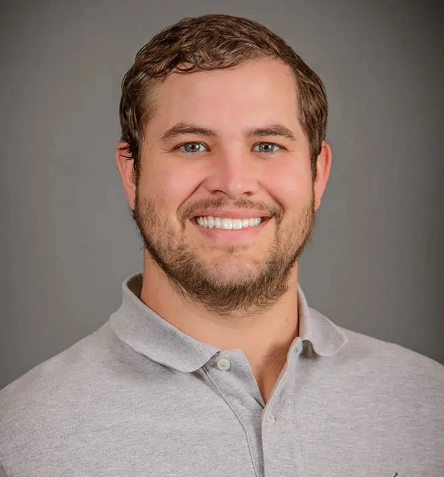 I was raised in a family of tradesmen: my father an electrician and many of my uncles worked in construction. I learned that your name is reflected in your work, so no matter what you did, it had to be done right: we did not cut corners and we were always fair. That mentality transferred to me. I strive to be fair and honest, and to give the absolute best, quality care to all my patients.
I STRIVE TO BE FAIR AND HONEST, AND TO GIVE THE ABSOLUTE BEST, QUALITY CARE TO ALL MY PATIENTS.
BACKGROUND AND EDUCATION
Dr. Robichaux grew up in Alexandria, Louisiana. Inspired by two experiences, he knew at a young age that he wanted to be a dentist.
When he was ten, Dr. Robichaux had an accident and knocked out five teeth; his dentist took him in on the weekend and fixed him up. At the same time, his best friend's father – who lived next door – was a dentist and the boys would often hang out at his office and, when old enough, they helped out with various tasks.
Dr. Robichaux attended Louisiana Tech, where he received his Bachelor's degree in Biology with a minor in Chemistry. His college summers were spent working at his childhood neighbor's dental practice. After completing his undergraduate degree, Dr. Robichaux attended Louisiana State University School of Dentistry in New Orleans, where he obtained his Doctorate of Dental Surgery (DDS).
EXPERIENCE, CONTINUING EDUCATION, AND PROFESSIONAL AFFILIATIONS
Dr. Robichaux loves teeth and he loves working with his hands. With a craftsman's aptitude, he enjoys having a mental picture of how to address a patient's issue and being able to mold that into reality. Helping people develop and keep a beautifully healthy smile brings him great satisfaction.
Even more rewarding for Dr. Robichaux, though, is transforming a person's smile and, in doing so, transforming their life. He loves to help people who never smile – not because they are not happy, but because they are embarrassed of their teeth – and give them smiles that are healthy, functional, beautiful, and filled with confidence!
A dedicated professional, Dr. Robichaux is committed to providing his patients with the highest-quality dentistry. He actively participates in continuing education opportunities locally, regionally, and nationally, to stay current with the newest treatment techniques and options.
Rigorous ongoing education allows Dr. Robichaux to offer a wide range of services to his patients and to tailor treatment to the individual, using methodologies that are right for each person's needs. He refuses to be a cookie-cutter dentist and always seeks to provide the perfect treatment for each patient.
Dr. Robichaux is an active member of the American Dental Association, Louisiana Dental Association, and Bayou District Dental Association. Through these organizations he learns from leading researchers and practitioners, staying up-to-date with innovations in technology, materials, and techniques.
BEYOND THE OFFICE
Dr. Robichaux's family keeps him busy when he's not in the office. He and his wife Lindsay, who is a Houma native, met in dental school. The couple has two young daughters, Demi and Darby, and time with the girls is their priority.
Dr. Robichaux grew up hunting and fishing and still enjoys those activities. With his competitive personality, he also loves sports and recently has taken to playing golf. Other loves include cooking, cold weather, hanging out by a fire, and anything that has him outdoors.